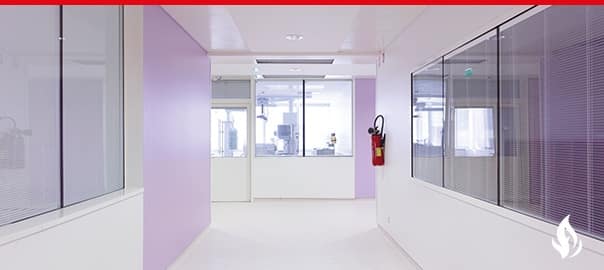 NOW SUPPLYING INTEGRATED BLINDS BY PELLINI
Fire Glass UK have partnered with Pellinindustrie to offer integrated blind systems, available in insulated units which can be made from toughened safety glass, low emissivity and acoustic glass, with fire rated options of FD30, FD30/30, FD60 and FD60/60.
This is great news for our customers as it continues to make us the only choice when it comes to specialist glass solutions. Pellini are the top manufacturer of integrated blinds and their work ethics combining design excellence and outstanding product quality, works hand in hand with what we are trying to achieve.
Integral blinds offer complete control of light and heat within your room and can be easily operated by cord, motorised battery, magnetic slider, a manual knob or an internal motor. This allows privacy easily converting open spaces to private areas, meaning an open space divided by windows or screens can quickly be changed to a private area. Blinds can be raised and lowered, and can be tilted The blind is raised and lowered by sliding the magnetic control up and down and can be tilted using the easy operating system of your choice.
Integral blinds are hygienic and are clean for life due to the system being encapsulated within the glass unit, thus, meaning there is no risk of damaging the blinds. They are durable and maintenance free thanks to the closed-loop belt transmission system which allows smooth and long-lasting function of the blind.
Integral blinds are very versatile due to the slimline design. They are great for homes, offices, hotels and schools. If privacy is paramount they can be used in hospitals as they are hygienic and can divide space. This system can be applied to most windows, doors, french windows, up-and-over, sliding or casement windows.