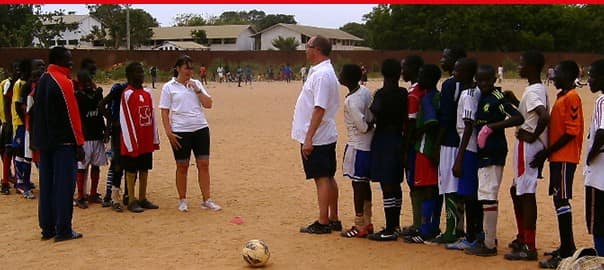 Geoffs African Trip
Since 2007 we have supported a Football Academy in New Jeswang, which is situated in West Africa. We started by donating a few unwanted football shirts and has now grown to providing shipments of supplies, three or four times per year. We also take an annual trip to see the development and progress of these youngsters.
We have also sponsored children, who would normally not be able to, go to school. The cost is a £20 per year per child, which is not a lot of money compared with education in the UK. A proud part for us all was being able to buy a bush taxi for one member of the academy, along with his insurances and licence. This enabled him to set up his own business.
We fund our own trips, but do receive donations of clothes, football equipment, candles, pads and pens and anything we can send in a container that can be shipped. This can take between four and six weeks. Simple things like a tooth brushe and toothpaste can make a huge difference.
Fire Glass employees are always happy to contribute knowing a little makes a big difference.